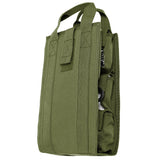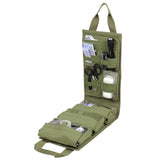 Condor Pack Insert
SKU: CDR-VA7-001
Use the Pack Insert from Condor Outdoor to add a new dimension of organization to your most important bags. This pack insert is designed to work with the Condor Assault Pack or any other similarly sized bags and packs.
The insert allows users to organize their medic kit, mission pack, bugout bag, or tactical pack easily. Use the three inner pouches along one panel to keep necessities securely stored. The opposite side includes elastic keepers where you can slip in flashlights, first aid supplies, and other medical essentials.
The pack includes handles which can be used to easily retrieve it from your bag or hang up the pack for easier access to its contents. Once you have your gear and accessories organized inside, fold up the pack and slip it into your pack. You'll be ready for all kinds of situations with the versatile Condor Pack Insert.
FEATURES
Two panels with elastic keeper
One pouch with mesh window and flap closure
Two pouch with Vinyl window and flap closure
Semi-rigid construction to keep insert in form for easy deployment
Grab handle
Contents not included
Imported