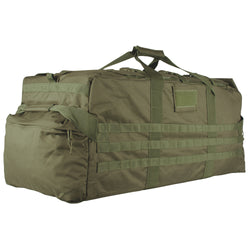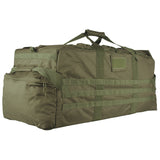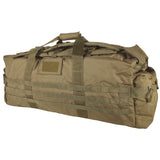 Fox Jumbo Patrol Bag
SKU: FOX-54-690
Fox Jumbo Patrol Bag
Our Jumbo Patrol Bag is one of our largest bags and can be used as a gear bag, a storage locker, a backpack, or a shoulder bag.
The Jumbo Patrol Bag has a large main compartment with four inside mesh pockets, two end pockets with fitted storm flaps and zippered closures, and modular attachment points throughout, making it an ideal storage bag.
The concealed shoulder straps transform the Jumbo Patrol bag from gear to backpack in seconds, allowing you to personalize it to your needs. It also includes wraparound web handles and two end handles. Even the heaviest loads will be safe and secure thanks to the triple compression straps.

Jumbo Patrol Bag Features:

Extra large main compartment with 4 interior mesh pockets
Concealed shoulder straps for easy transition from gear bag to backpack
2 End Pockets with fitted storm flaps and zippered closure
Padded grip handle
2 end handles
Cinch straps to keep stowed gear intact and to prevent zipper failure
Size: 35" x 13" x 14"
Capacity: 100 L / 6370 Cu In
Imported