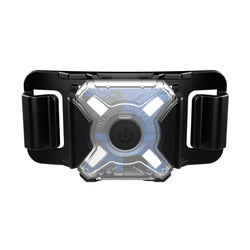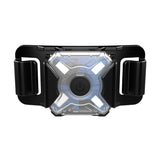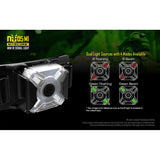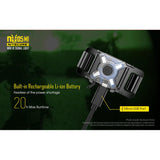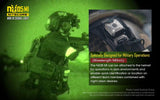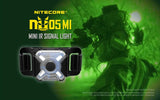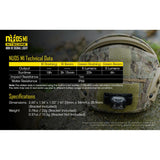 Nitecore NU05MI Green/IR USB LED Light
SKU: NC-NU05-MI
The NU05 MI is a mini infrared IR and green signal light specifically designed for law enforcement and military applications to use with night vision equipment. Green and IR signal lights can be independently activated to flash or steady on, providing easy visibility and identification. IR is invisible to human eyes but can be picked up by night vision equipment, which enables stealth and tactical maneuvers in complete darkness.
You can use NU05 MI in many different ways. Its back clip is compatible with standard MOLLE systems on bags, straps, and body armor. Or directly attach it to a helmet or other surfaces with its hook and loop backed bracket. The bracket can also be secured with a strap, paracord or cables allowing for versatile attachments.
The NU05 MI is ultra-lightweight and USB rechargeable. At full charge enjoy up to 20 hours of runtime. It flashes to tell you the remaining battery life so you are always ready for action. Made of tough high-quality PC material, this lightweight signal LED is only 0.78oz with the bracket included. Prepared to tackle the toughest outdoor environments the NU05 MI is impact resistant up to 1m and IP66 waterproof rated.
FEATURES
IR Signal Light (940nm) with Green Light
Built-in Li-ion Battery with 20hr Max Runtime
USB Rechargeable
User Friendly Single Button Operation
Power and Battery Life Indicator
Included Lightweight Bracket with Hook-and-Loop Connector
SPECIFICATIONS
LED: 4 High-Performance LEDs (2x IR & 2x Green)
Green LED: 5 lumens
Peak Beam Intensity: 2 cd
2 Modes: Green/IR Flashing, Green/IR Steady on

Runtime:


Green/IR Flashing: 18 hr/20 hr

Green/IR Steady on: 6 hr/3 hr 15 min

IP Rating: IP-66

Impact Resistance: 1 m

Dimensions: L-2.65"xW-1.34"xH-1.02"

Weight: 0.37oz without Bracket / 0.78oz with Bracket