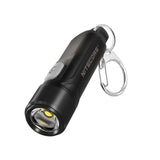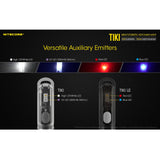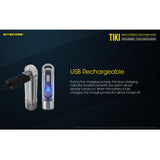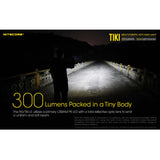 Nitecore TIKI USB Keychain LED Flashlight
SKU: NC-TIKI-CRI
The NITECORE TIKI puts the power of 300 lumens with a reach of 77 yards at your fingertips with the click of one button. Weighing about 0.42 ounces, this ultra lightweight mini keychain light has a user-friendly interface. Made from durable PC materials with a stainless steel alloy head, the TIKI boasts an IP66 rating, ensuring that this little guy can be used in any weather condition.

USB Rechargeable
Powered by a USB rechargeable Li-ion battery, the TIKI is convenient to charge and can run for up to 40 hours. Simply short press the button to cycle through the four brightness levels.

Available in Two Variations:
(TIKI) UV & High CRI Light
Triple press to access the auxiliary and special modes: high CRI, UV light, high CRI flash. The UV light is essential for stain, fake ID and counterfeit bill detection for security personnel, while the high CRI white light is ideal for reading and camping.

(TIKI LE) Blue & Red Light
Triple press to access the auxiliary and special modes: blue light, red light, and flashing blue and red. Use the red and blue lights to send signals. The flashing red and blue light is ideal for warning others or grabbing attention.
FEATURES
TIKI Auxiliary lights: CRI≥90 LED and 500mW UV LED

TIKI LE Auxiliary lights: Red and Blue LED

Built-in Li-ion battery with micro USB charging port
Simple one handed, single button interface
IP66 water resistance rating and 1m impact resistance

SPECIFICATIONS
LED: OSRAM P8 LED

USB Rechargeable via Micro USB charging port

Maximum Brightness: 300 lumens

Peak Beam Distance: 1,260cd
Brightness Outputs:

High: 300 lumens / 30 min
Mid: 60 lumens / 1 hr
Low: 15 lumens / 4 hr

Ultralow: 1 lumen / 40h
UV: 500mW / 45 min

CRI: 22 lumens / 1 hr 30 min

CRI Flash: 22 lumens / 20 hr
TIKI LE: (Red) 3 lumens / 1 hr || (Blue) 0.8 lumen / 45 min || R/B Flash 1 hr 45 min


IP Rating: IP66
Impact Resistance: 1 m
Dimensions: L-2.16"xW-0.57"xH-0.57"
Weight: 0.42oz